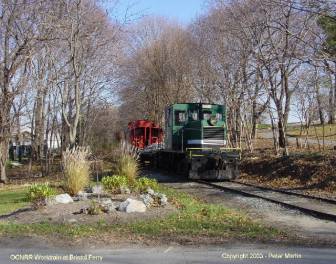 Old Colony & Newport Railway
1979-2004
---
The National Railroad Foundation and Museum,
located in Newport, RI
and operator of the Old Colony & Newport Railway,
is a 501(c) (3) non-profit educational organization
dedicated to the preservation, restoration, and operation
of historic railroad equipment,
and the preservation of Narragansett Bay
& the surrounding environment.
Photo and Card Design by
Stacy House Designs - 2004
www.stacyhouse.com
This card shows the
Old Colony & Newport Railway
worktrain at the Bristol Ferry crossing.
The price of each photo note including
a matching envelope is $3.00.
Packages of 5 are available for $16.50.
Packages of 10 are available for $31.50.
To order cards send an email to: